This was a message I received after I put this picture up on Facebook the other day
Here is the full message:
Hi David, I love that picture you put up about one of your clients Pauline. I wish I could be like her and get those types of results.
I really need to sort my life out, but I just don't have the time or energy to start something like what you do.
Now before I tell you my reply to her, I want to tell you one quick thing. That if I received £10 every time someone told me that they had no time or I told myself that I had no time, I would be a millionaire.
Because after all, we all have time to do what we want to do! Just like we all MAKE time to watch our favourite TV program or football.
We all MAKE time to sit on your phone or read a book. We all MAKE time to go out for food, instead of eating in!
At the end of the day, it all comes down to prioritising what is important to you. The less important you consider something, the lower down the list it will be.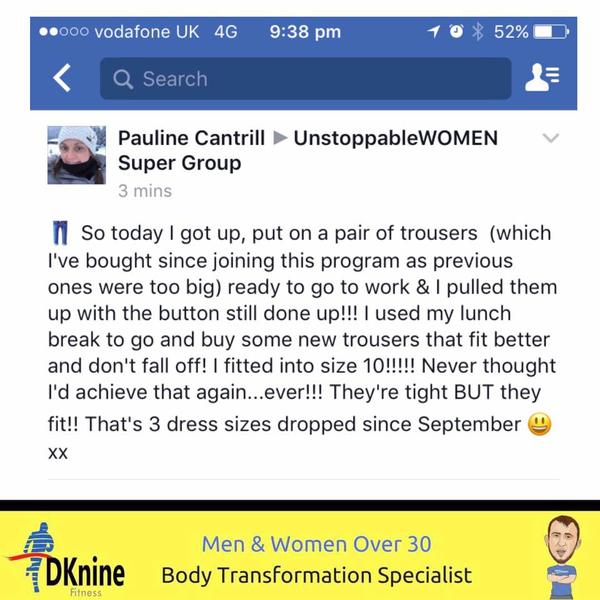 Download Your FREE 7 Day Meal Plan
And Let's Get The Body and Confidence You Deserve
Anyway, this is my reply as she lived down here in Southampton
(if you don't live in Southampton and want to work with me Online, Click Here)
Hey >>Name<<
Yes, Pauline has done AMAZINGLY well and is still going strong on the program.
The programs we offer will be like nothing you have ever tried before, sessions are based on the number of sessions you want to do.
They range from 7.00am to 9.15pm, you simply pick and choose with as much flexibility as you like. This should give you plenty of opportunities to find the right times to suit you.
Then we have the nutrition side, where we show you how you can still eat your favourite foods and still get a Transformation without having to cook separately for you and your family.
We have all the mindset, and lifelong training to make sure this Body Transformation is a Lifelong Transformation.
We have events, such as the meal we went on, last Thursday night. We have been bowling & donutting, we went to boxercise a few weeks back and we have plenty of stuff lined up over the next few months.
Do You Need A Kick To Get Started?
Then Take The 5 Day Kick Starter Challenge Today…
For weight loss to really work and get higher up your list of priorities, you need to know your "WHY".
What I mean is, WHY do you want to lose weight? If you can get a really powerful why then anything is possible.
Grab a bit of paper, then answer these 3 questions to create that powerful why:
1. What Do You Want To Change About The Current You?
2. What Do You Want To Achieve?
3. Why Do You Want To Achieve This?
Here at DKnine Fitness, we ONLY work with Men & Women over the age of 30. The reason for this is simple, WE GET IT!
We get what it is like to have to come home after a stressful day at work and have to cook for the whole family. We get that most days, you struggle to find the energy to do the things YOU want to do.
We get that you have let yourself go because you are now further down the list of important people in your family.
So what we do is simple, we share with you a few very simple habits that can give you that Life Long Transformation without having to go on any crazy diet or spend hours in the gym.
I was speaking to one of our post 6 week members about how she has been getting on After getting some great results from her inital 6 weeks, she decided to stay and has now been with us for about a year and a half now and has lost an.... INCREDIBLE 4.5 stone!!!! And...
read more
Download Your FREE
7 Day Meal Plan, Packed Full With:
Absolutely Delicious Meals That Are Quick And Simple To Prepare
Get Out Of That "Diet" Mentality, Looking And Feeling Amazing Has Never Been So Tasty
Make Shopping, Meal Planning, Preparation And Weight Loss Easy!